Adult Sunday School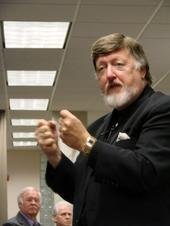 Eugene Harold Coleman Sr.
3616 Rossville Blvd. / Chattanooga, Tennessee / 34707 / telephone: 423-867-4232
TO DO YOUR OWN RESEARCH CLICK HERE

ADULT SUNDAY SCHOOL CLASS
Every Sunday morning our adults gather in the sanctuary of the C.C.C.
for the Sunday School Lesson. We are now blessed to sit under the teaching ministry of Ringgold Attorney Marshall M. Bandy Jr. (click here) Marshall has been a student of the Word for over a decade and takes great lengths to study and prepare for something new and fresh each week. That Sunday School Class has begun to grow.
Mr. Bandy starts the lesson right at l0 AM and asks the students for total attention with minimum interruptions so that a great teaching environment is assured.
Each Sunday Marshall records his presentation and he will post that on our website along with the notes that are given to those in attendance. The notes will be posted in Microsoft Word. The audio will be in MP3.
5.
10.
18. Walk a mile - Beatitude
19. Help the poor -Beatitude
25. Finding God's plan for your life Lesson notes same as 24
26. Beatitudes Matthew 7-12 Lesson Notes
33. What is an Apostate Church-No notes on this lesson
37. Christmas 2011 - No lesson notes
44.
45.
46.
47.
48.
49.
50.
51.
52.